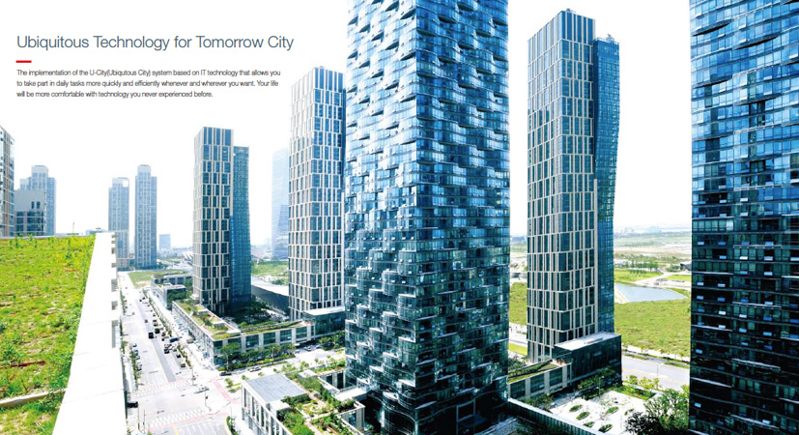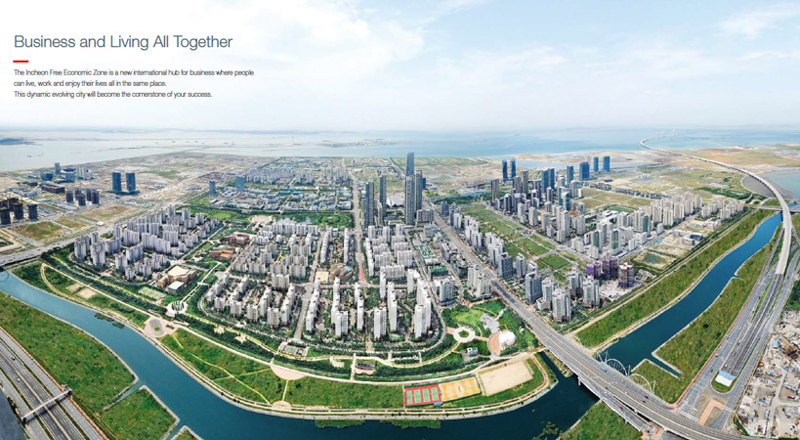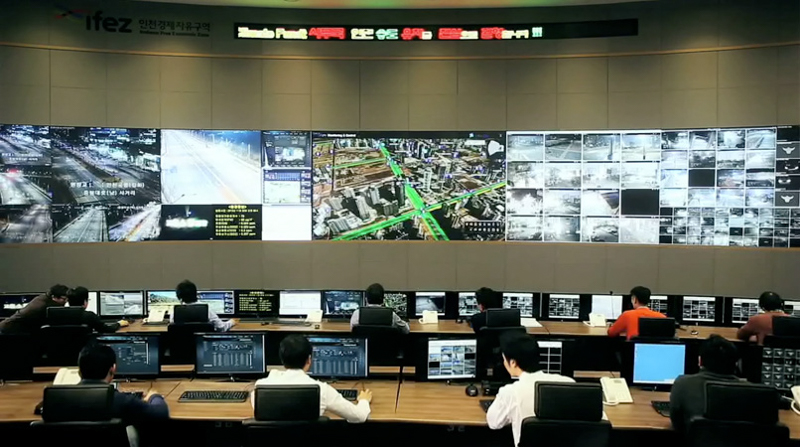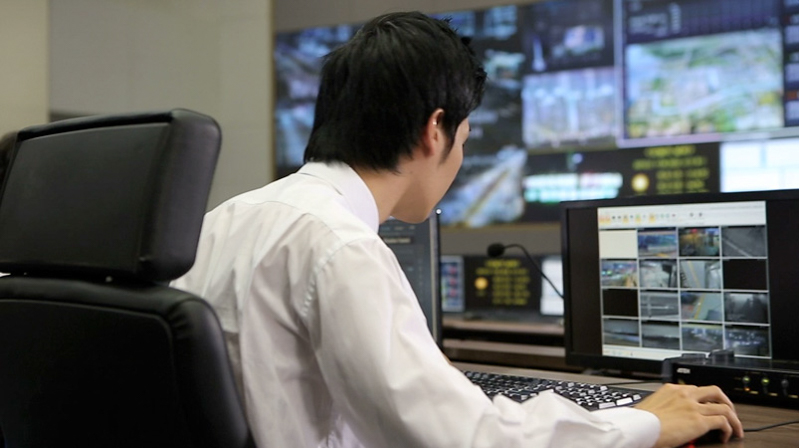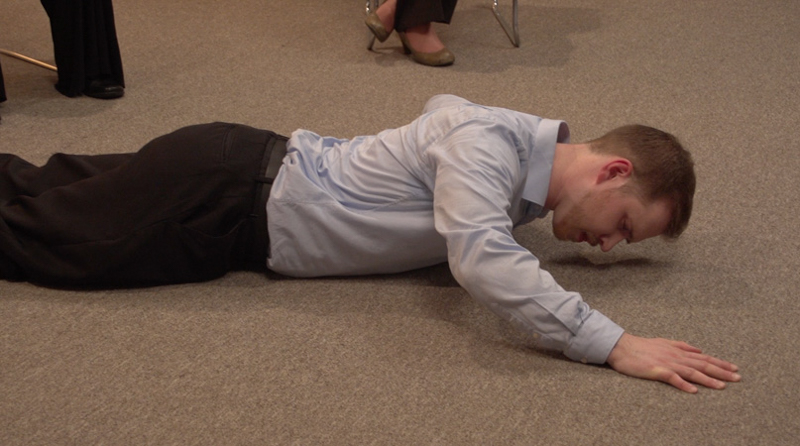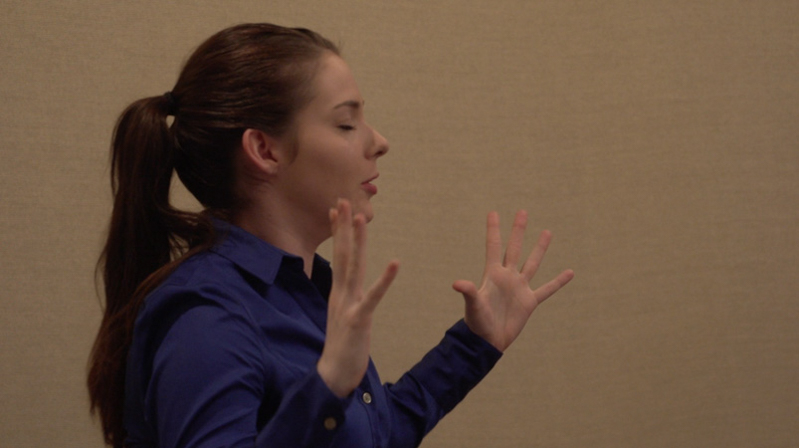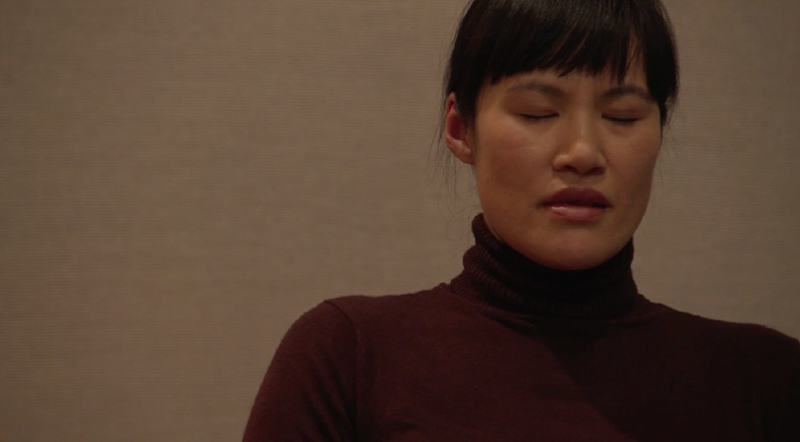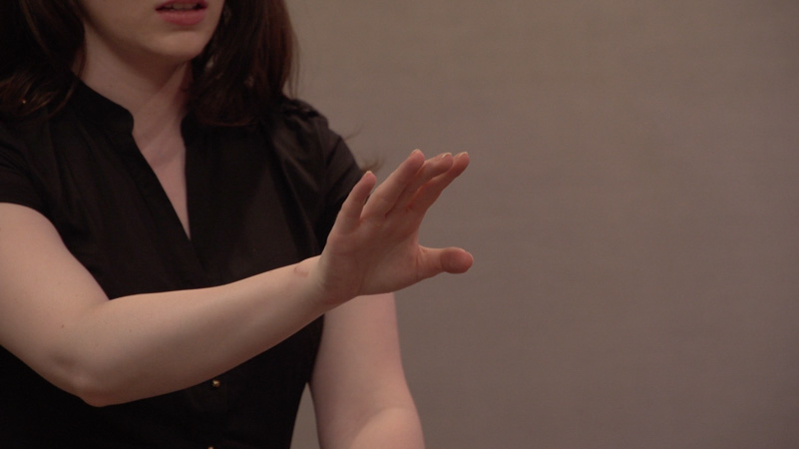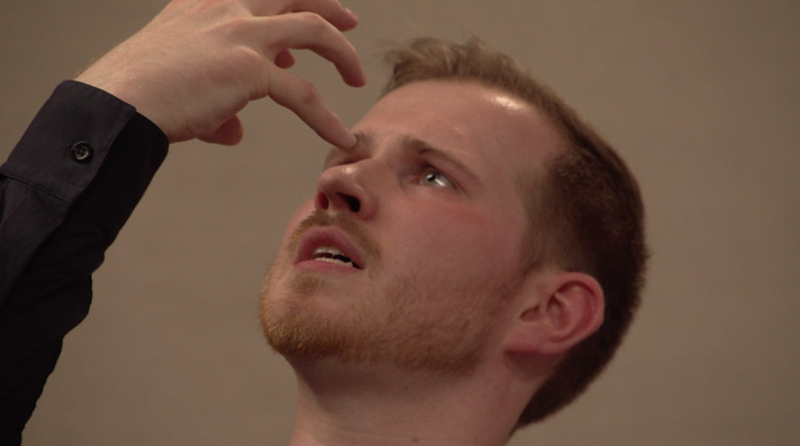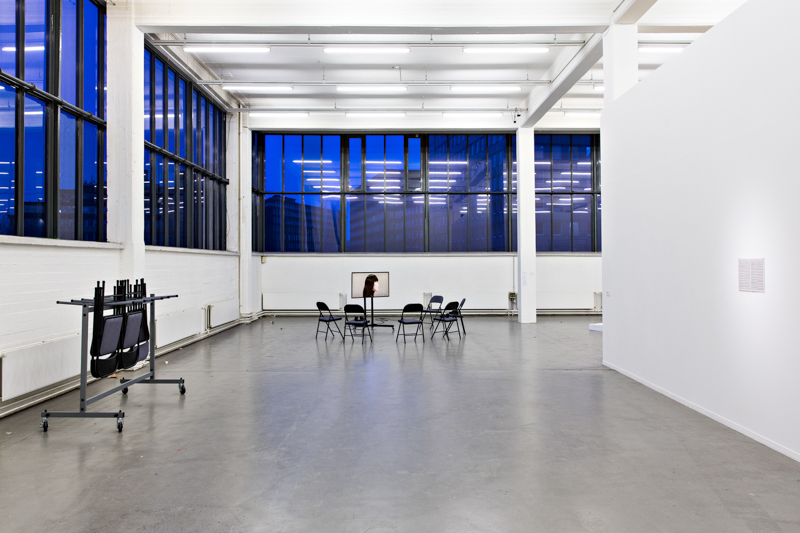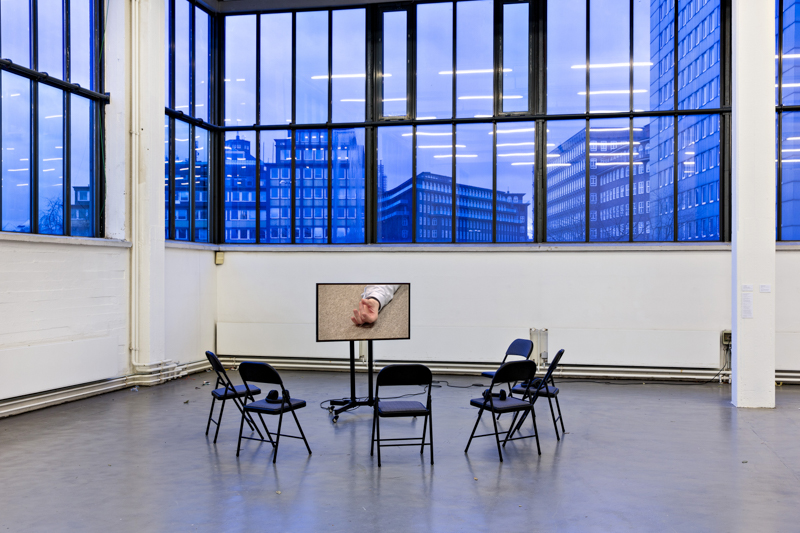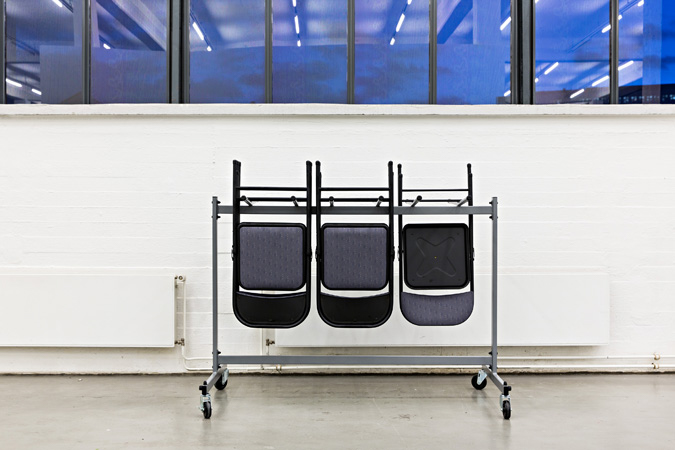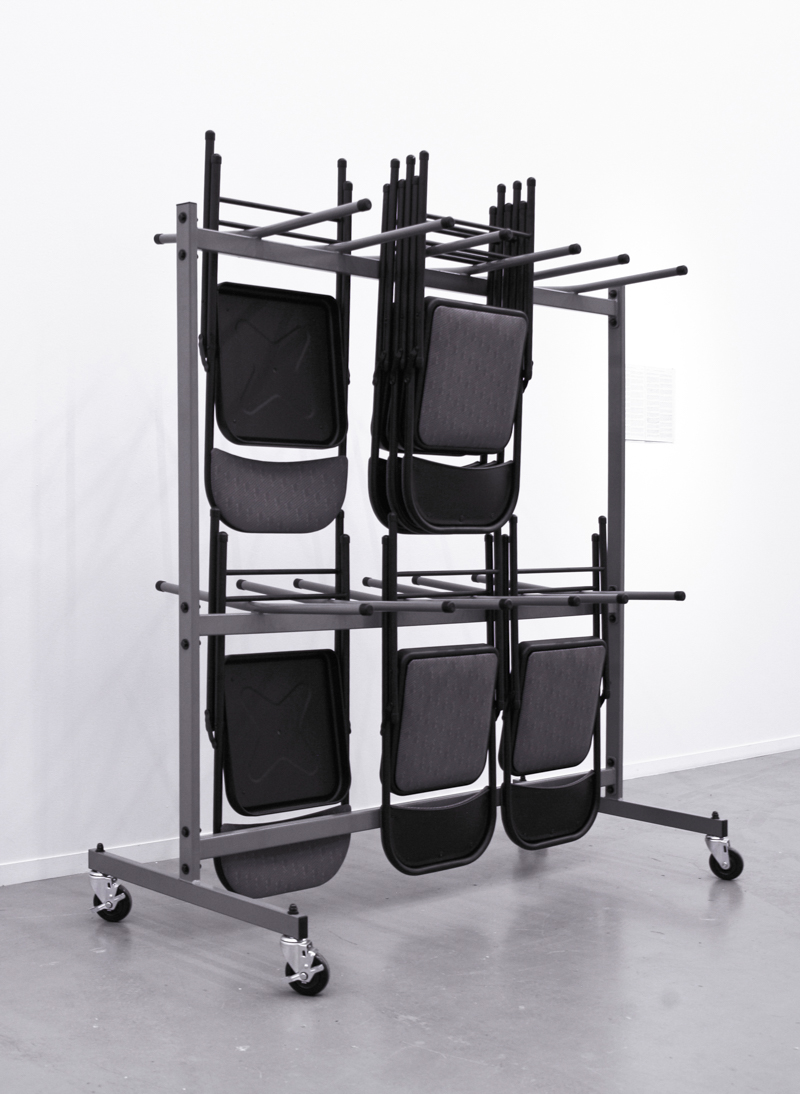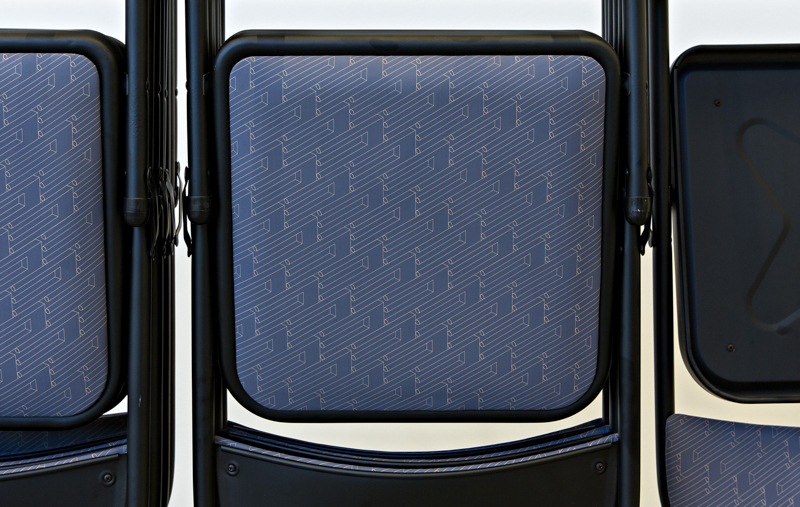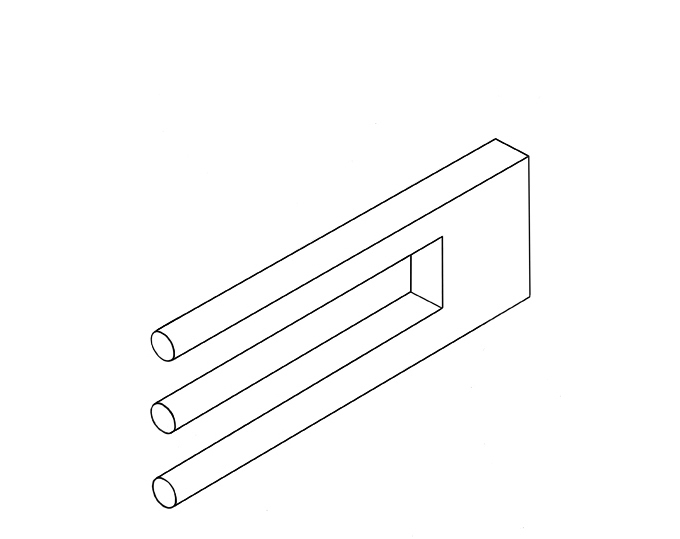 U
2014 - 2016
Video (TRT 39 minutes), reupholstered chairs, chair carts

Produced with the support of Kunstverein Hamburg, a Rhizome Commission, a residency at Western Front, Vancouver

Watch the first six minutes
"U" is a fictional video, adapted from interviews with data monitors from Songdo, South Korea. Beyond being one of the largest and most expensive development projects in the world, Songdo advertises itself as an "ubiquitous" or "U-city," implementing smart technologies at every tier of urban design, from public infrastructure to residential units. Its city planners, in short, aim to build a metropolis-as-information network.
During the summer of 2014, I lived in Songdo, where I conducted interviews with members of the technology and real estate companies developing the master plan, as well as with employees of the Integrated Operations Center, which monitors the surveillance and sensor data generated by the city. At the time I visited the Center, several employees were experiencing psychological duress from the relentless monitoring work, and their supervisor was in the process of introducing therapy sessions.
My video departs from this anecdote, imagining a contemporary form of Gestalt psychotherapy, which shares affinities with the employees' work.  Eschewing any depth model, Gestalt focuses on the "here and now": on what is apprehensible in the present moment through sense experience. The therapist is thus akin to a surveillance camera, scanning for modulations in a patient's body, language, and tone of voice.  From my perspective, this resonates with smart city planning, wherein the sense data aggregated by sensor and surveillance technologies suffice as tools of governance. Life is managed by bandwidth; big data rewrites the law.
   
Gestalt is also relevant, as patients are asked to assume the voices of the people, objects and emotions in their dreams. The self is thus conceived as an expansive network, within which a patient can learn to map near and distant psychical points.  This approach reminds of "The Internet of Things," the rhetoric smart cities use to suggest that everything (a human, a sensor, a television, etc.) is equal within the network.
Beyond these references, my video tells a character-driven story.  Over the course of ten, fragmentary sessions, three characters find different ways of negotiating a challenging situation, in which the lines between personal therapy and professional performance are nearly impossible to draw.  Technology's remaking of the world, the video implies, extends from the scale of the built environment to the most intimate notions of self. 

Therapist
Rita
Alex
Cal

Curator
Technical Director
Director of Photography
Sound
Camera Operator
Program Assistant
Construction Assistant
Production Assistant
Line readers

Runners


Script Consultants

Editing Consultant
Therapist Consultant
Sound designer
Colorist
Fabric Printing


Yvette Dudley-Neuman
Alyssa Hanson-Smith
Donna Soares
Trevor Lawless

Allison Collins
Ben Wilson
Matthew J. Barrett
Pietro Sammarco
Colin Kozachuk
Emmy Willis
Alex Muir
Alexandra Bischoff
Chelsea Yuill
Allison Westdorp
Jennifer Dickieson
Jennifer Sin
Natasha Habedus
Lucy Teitler
Laura McLean-Ferris
Jeffrey K. Miller
Kim Burton
Eli Cohn
Evan Kultangwatana
Print All Over Me